About C.A. Smith Lumber and Feed Co.
C.A. Smith has occupied the same location in Ludlow, MA for generations. For years the good people of Ludlow and the surrounding area have been coming to C.A. Smith for all their building needs. In addition, it has been our pleasure to supply some of the largest residential and commercial contractors in Western Massachusetts. Our combination of low overhead and volume purchasing has always meant big savings for our customers. Furthermore, we have a knowledgeable staff all of whom have worked in the industry, and at C.A. Smith, for years. This combination of minimal expenses, large volume purchasing power, and an expert staff has proven to be a winning formula for C.A. Smith and for our customers. Please stop in and see us. We would love to help you with your next project.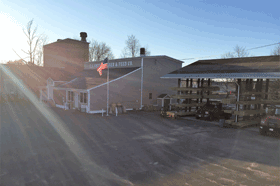 Our commitment to community goes beyond our customers. Not only do we take great pride in the established reputation that C.A. Smith enjoys in Ludlow, but we work to give back to the neighborhood. We are conscious of our ability to help others in need and try to extend the hand of friendship to those whom we can help. C.A. Smith remains actively aware of its calling to partner with people to help the community thrive.